Thought on Navratra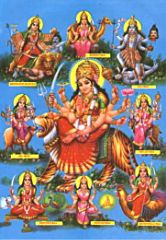 Navratra literally means '9 nights'. These days are astrologically very powerful for Spiritual upliftment.
During these days and nights, prayers are offered to 'Mother' who is the Manifestation of the Absolute Energy that pervades the Universe. As 'Durga' sitting on a Lion, she is a Manifestation of 'Shakti' or the Primordial Energy. The Power to breathe, walk, digest etc, comes from Ma Durga.
As Laxmi She is abundance. Not only material, but of Air, Land, Space etc. The fact that you have understood what I have written so far is due to the Grace of Ma Saraswati' She is the 'OM', from where all sound emanates. 'Ma' is the 'Garbha' (Womb) from where the Universe manifests.
The word 'Garba' stems from 'Garbha' and symbolizes the 'Dance of Creation' The first 3 days of 'Navratra' are dedicated to 'Ma Kali' to annihilate the enemies within
The next 3 days are dedicated to 'Ma Laxmi' and the last 3 days are dedicated to Ma Saraswati.
On the 10th day a Bonfire is lit to burn the Self arrogating Ego. Whether we pray to Ma or not, she thinks of us all the time. She holds us in our arms when dejected, gives us various gifts from time to time, but admonishes us when we cross our line.
Ma Vaishno Devi's birth name is Trikuta. She was called Vaishnavi because of Her taking birth from Lord Vishnu's lineage. When Trikuta was 9 years old, She sought her father's permission for doing penance on the sea-shore. Trikuta prayed to Lord Vishnu in the form of Rama. During Shree Ram's search for Sita, He reached the sea-shore along with His army. His eyes fell on this Divine Girl in deep meditation. Trikuta told Shree Ram that She had accepted Him as Her husband. Shree Ram told Her that during this Incarnation He had vowed to be faithful to only Sita. However the Lord assured Her that in 'Kaliyuga' He would manifest as 'Kalki' and would marry Her.
In the meantime Shree Ram asked Trikuta to meditate in the cave found in the Trikuta Range of Manik Mountains, situated in Northern India. Ma decided to observe the 'Navratra' for the Victory of Shree Ram against Ravan. Hence one reads the Ramayana during the 9 days of Navratra.
May I urge you to do the same on these 9 days of Navratra? It is a mammoth task for most of us, so could I request you to divide the 50 pages of my book 'Symbolisms in the Ramayana' into 9 days and read 5 and a half pages a day?