Krishna Is Born
Krishna's mummy and daddy were Devki and Vasudev.

Someone told Devki's brother Kamsa that Devki's 8th son, would kill him.

So Kamsa had Devki and her husband Vaasudev, put in jail.

Vaasudev and Devki remained patient while in jail.

God comes to those who can wait patiently

Kamsa then proceeded to have all his sister's sons killed!

Devki became pregnant with her 8th child.

She prayed to the Lord Narayana that her son who she knew would be God would kill Kamsa.

When the time arrived for the divine child to take birth, the Lord Narayana appeared in His Form with Four Arms! (Chatur-Bhuj-Svaroop)

The Divine Form of God, told Vaasudev and Devki to contemplate and meditate upon this Form for 11 years, as He promised that He would return to them, then.

The Divine 'Chatur-Bhuj-Svaroop' turned to a child form.

Baby Krishna told to Vaasudev to take Him to the house of Nand-Baba where he would be safe for 11 years.

So Vaasudev placed the Divine child in a cane basket, and carried Him on his head.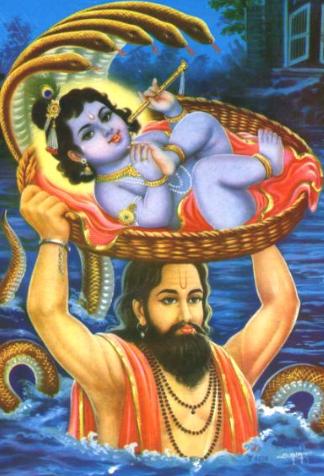 The Gates of the jail opened miraculously! And the fetters were released!

As Vaasudev crossed the River Yamuna, it rose and rose until it touched the feet of the Divine Child; and then receded!

Vaasudev arrived in Gokul with Krishna.

Krishna grew up as Yashoda's and Nand's child.

So Krishna was very lucky to have two mummies and 2 daddies who loved him very much.

'Yash' means one who gives fame.

Nand means one who gives happiness: 'Anand'.

When the Gopis heard of the 'coming' of Krishna, they ran towards the home of Yashoda-Nand. They were impatient for Krishna-Darshan. (Seeing Krishna).

When Krishna became 11 years old, he returned to Mathura where he killed Kamsa and freed his parents from jail.

The story of God Krishna is a great drama or story.

We must love Krishna who will love us much much more.