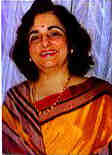 Shakun Narain

BIO DATA
Shakun Narain Kimatrai had her early education in Spain. It was her enquiring mind which led her to go deeper into the whys and the wherefores of Hindu customs and traditions which resulted in her authoring the book "Hindu Customs and Beliefs", and subsequently, another work entitled "Symbolisms in the Ramayana".
"In touch with Masters", her third publication, introduces her readers with the various Spiritual personalities that entered her life and left a deep imprint on it. All the afore-mentioned three books have been published by the 'Bharatiya Vidya Bhavan'.
Her fourth book "The Wisdom of Sind", makes an effort to immortalize, the Sindhi proverbs and give an insight into the Sindhi way of Life, both modern and ancient. This book has been sponsored by the 'Group 21',a Ladies' club, of which she is a member, and whose members contributed in putting together most of the 'Pahaakas' as proverbs are called in Sindhi.
She has completed the translation of 'Nisaadhanta' , a series of discourses rendered by Sri Morari Bapu, from Hindi to English.
She has recorded the various meetings she has had with her Guru and Mentor under the title ''Remembering Maa, through the pages of my diary"
All the above books are available for perusal within her web-site. You can click on the book names to go directly to the respective books.
'Dal Sabzi for the Aatman' is a weekly mailer started by Shakun Narain Kimatrai. It is especially popular with the young Sindhis. The Dal Sabzi for the Aatman has proved to be so popular, that she has been requested by many, around the world, to be added, on her mailing list. This website is a collection of all the mailers she sent out, all the books she has written, mantras for everyday use, and a lot of other interesting pages.
Her expertise includes Spanish translations.
Shakun freelances. Her articles have appeared on Indian as well as International magazines. Shakun is widely traveled and has a keen interest in music. She was successful in the Radio test that she appeared for in 1986. Around 1980, she started a 'Bhajan Group' Which consists of ladies who enjoy singing. Today they are much sought after, to give performances at various Spiritual gatherings.
Shakun also conducts classes on Hindu Philosophy where she instills an awareness of the richness of the Hindu heritage in the young minds.
Shakun Narain is proud grand-mother and a grateful housewife to her husband and children, for not coming in the way of her interests, but encouraging her in her various pursuits.