SINDHI DIWALI PUJA VIDHEE
Procedure of a Sindhi Diwali Pooja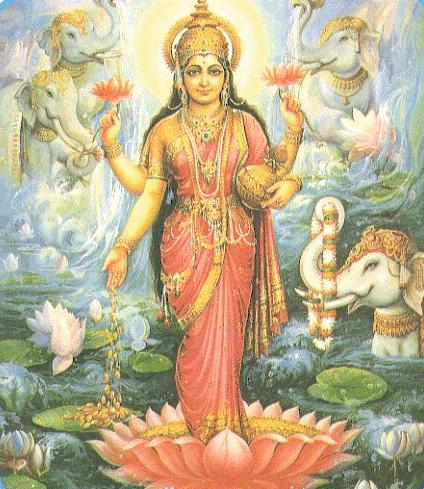 Goddess Maha Laxmi
(To read more about Maha Laxmi, click here.)
Many of you have requested me to tell you the way, the Sindhis perform the Diwali puja. I am going to tell you later. But first, have you heard what Maansic Puja is?
Maansic Puja , is a puja in which you require nothing but your imagination. You visualise the puja. It may be simple or elaborate. It can take place at any exotic location. And you can use the most exorbitant ingredients, as you have to pay for them in terms of only your faith and love. The advantage of a Maansic Puja is that your mind cannot wander. The Scriptures promise the same rewards for this Imaginary form of worship Try the above puja anytime that you are on a flight of fancy, or literal.
Now for the conventional puja:
Keep your house clean and draw a rangoli at your doorstep to welcome Goddess Laxmi.
For the best time for puja, a pandit could be consulted.
You will require:
Some silver and gold coins.
10 Suparis
Some uncooked Rice
5 paan leaves
A coconut
Water in the 'lota'. May add Ganga water if you have.
Kumkum for applying tilak
Gulaal (holi colour)
Mithaai (Indian sweets)
Agarbattis (insence sticks)
Diya
Camphor
On a new piece of cloth, make mounds of rice and place suparis on top. The suparis stand for the planets. Either keep another supari for Ganesh, or a Ganesh icon.
Fill the Lota with water, adorn paan leaves around the lota .Place a coconut on top of the lota.
Dress the lota with a red cloth and tie a red string around it. On the lota draw with kumkum four lines representing the Vedas. A Swastika moving clockwise with 4 tikas. Light the agarbattis and the diyas.
On a thaali place the silver and golden coins. These represent 'wealth' or Mother Laxmi.
Take some water on your left hand and sprinkle water on to yourself after washing and purifying your hands.
Place a flower on your palm with some rice.
Chant the Gayatri Mantra 3 times (optional).
Now first visualise Lord Ganesh. Welcome Him to your puja. Chant a Ganesh Mantra. If you are not very good at remembering mantras, let me make it easier for you. Say: Om Ganeshaya Namah or I bow to you Lord Ganesh
Pray to Shivji the same way. Say: Om Namah Shivaya
For the more enthusiastic ones, please refer to 'Mantras and Prayers' for more mantras / prayers for Ganesh or Shivji.
Sprinkle water on the lota, apply kum kum, shower rice, offer a mithaai and fruit and accord the same treatment that you would to an esteemed guest. The water in the lota stands for all the sacred rivers.
Follow the same procedure with the 9 planets and the 4 directions. Sprinkle water towards the North, South, East and West. These are the 4 'dishaas' of the world or the Universe.
Then bathe the silver and gold coins with milk, water, gulaal, flowers and offer the mithaai. It is said if you make the coins jingle, it would attract Laxmi Ma to come to you.
Visualise MahaLaxmi and say: Om Shreem MahaLakshmaye Namah
Now you are ready for the Aarti. Light the Aarti diya. Light camphor. Sing the aarti to the tune of 'Om Jai Jagdeesh hare' along with the accompaniment of the jingle of the bell. (You will find the words of the Aarti at the end of this note)
Then place the thaali in your safe for 3 days.
Do the above with faith and devotion and don't worry too much if you do not do it very correctly.
Say 'Haraye Namaha' 3 times. That takes care of all the mistakes that you may have committed knowingly or unknowingly during the ritual.
What is most important is your faith and love.
THE MAHALAXMI AARTI
Om Jai Laxmi Mata, Maiya JaiLaxmi Mata,
Tumko nis din sevat, Hari, Vishnu Data
Om Jai Laxmi Mata
Uma Rama Brahmaani, Tum ho Jag Mata,
Maiya, Tum ho Jag Mata,
Surya ChanraMa dhyaavat, Naarad Rishi gaata.
Om Jai Laxmi Mata.
Durga Roop Niranjani, Sukh Sampati Data,
Maiya Sukh Sampati Data
Jo koyee tumko dhyaataa, Ridhee Sidhee dhan paataa
Om Jai Laxmi Mata.
Jis ghar mein tu rehtee, sab sukh guna aataa,
Maiya sab sukh guna aataa,
Taap paap mit jaataa, Man naheen ghabraataa.
Om Jai Laxmi Mata
Dhoop Deep phal meva, Ma sweekaar karo,
Maiya Ma sweekaar karo,
Gyaan prakaash karo Ma, Moha agyaan haro.
Om Jai Laxmi Mata.
Maha Laxmiji ki Aarti, nis din jo gaavey
Maiya nis din jo gaavey,
Dukh jaavey, sukh aavey, Ati aananda paavey.
Om Jai Laxmi Mata.