SUNDERKAND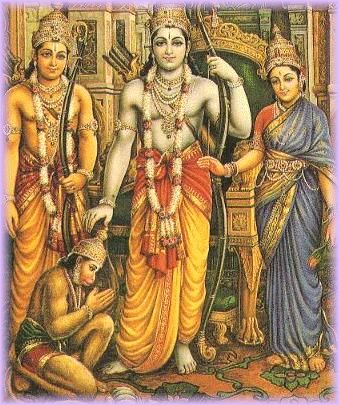 The SunderKand which is a chapter in the 'Ram-Charit-Maanas', penned by Goswami Tulsidas is considered to be as auspicious to read, as it is to recite the 'Hanuman Chaalisa'.
In the Sunder-kand, Hanumanji is reminded by Jambavan about the fact that Hanumanji has great powers that the latter has no memory of. In this case Hanumanji is made to remember about the fact that he is capable of flying.
Jambavan exhorted Hanuman to undertake the crossing of the Mighty Ocean. Hanumanji's flight was necessary to search for Seeta who had been abducted by Raavan.
Seeta is symbolic of Bhakti or devotion. To reach her one has to don the wings of prayer and love.
Hanumanji is now all ready to take the leap. Let us take the flight with him in search of Love incarnate.
The translation of the SunderKand was done by Deepa Balani, a student of mine from the Geeta Classes. Thank You, Deepa.
Start with Page One
Continue with Page Two
Finish with Page Three